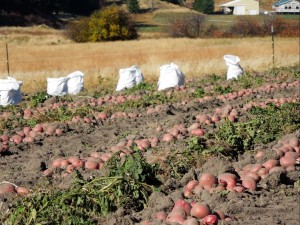 Mountain Spring Farms is Certified Organic through the Montana Department of Agriculture's Organic Certification Program.   Crop rotation and soil health are important aspects of organic production.  All potato crops are grown in soil that has been farmed with cover crops and minimal tilling.  Management practices help build micro nutrients along with beneficial microbes and insects to maintain a complimentary ecosystem for plant growth.
In addition to Organic Certification,  seed potato crops grown in Montana must past strict guidelines monitored by the state (Montana State University Seed Potato Certification Program) to prevent the spread of viruses and diseases in the seed potato industry.  Montana Seed Potato Certification involves multiple field inspections for each variety, leaf sampling,  tuber sampling and USDA inspection for quality control.  If the seed potato crops pass inspection a Blue Tag is issued for each variety.
All Mountain Spring Farms Seed Potato Varieties Are Blue Tag.